Welcome to The Pocalypse's Store
Thanks for visiting! The Pocalypse is a flash webcomic about DIY superheroes trying to cope with post-apocalyptic life. Except it's not just apocalypse, it's The Pocalypse!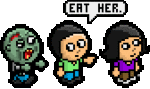 Eat Her
Zombies gotta eat something!

Mind-craft Tower
Joe showing off his mind-crafting skills! A mind is a terrible thing to waste!