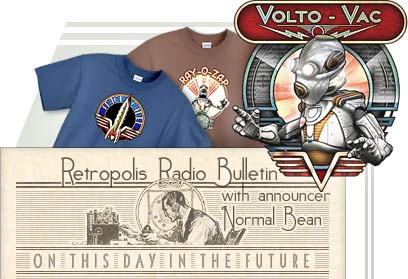 The Retropolis Transit Authority welcomes you to its streamlined, ultra-retro-modern collection of apparel for the World of Tomorrow! Our shirts are colorful, high quality tees and jerseys imprinted with the cheerful advertising slogans of yesterday's tomorrows, along with thoughtful, humorous and sometimes thought-provoking retro futuristic graphic emblems for: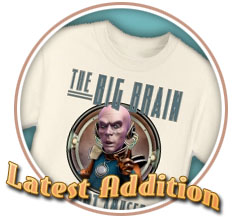 Still not satisfied? Then treat yourself to a selection of Vintage Futuristic Designs from the pages of yesteryear. Nobody, but nobody, knew the future like those guys in the past.

Whichever you like, don't waste any more time - hop right in and have a look at what we've got; which is some pretty swell bits of retro science and retro science fiction all ready to wrap up and, well, wrap around you. Provided you don't have more than two arms, anyway.