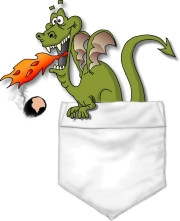 Fantasy T-shirts
Dragons, fairies and little monsters and maybe a few aliens. Just what you need to get through the day. But don't worry, they will behave and stay in the pocket of your t-shirt.

Little Green Monster T-shirt
A little green monster that's not too sure about the big world out there. I think he would rather just stay down in your shirt pocket and peek out every now and again. T-shirts for adults and children.


Dragon T-shirt
I'm afraid this dragon has gotten a bit carried away and burned a hole right through your shirt. Oh well, he usually behaves himself and stays in your pocket. T-shirts available in sizes kids XS to mens 3XL.


Unicorn T-shirt
The unicorn represents strength, endurance, agility, perseverance, wisdom, playfulness, purity, hope and love. Who couldn't use all these in your day. Take the unicorn with you and face your day with confidence. T-shirts for the whole family.


Magic Wand T-shirt
A pocket filled with a magic wand and charms. All yours to get you through those tough days. Be careful, looks like some of that magic is escaping. T-shirts available in many styles.


Fairy T-shirt
A tiny fairy in your shirt pocket. She's a little shy, but she'll be there when you need her. T-shirts for men, women and children.