Welcome to Illuminati Scum
Custom-designed mystical threads for occultists. Sorcerous apparel for all occasions! More designs are added all the time. Check back often! You can find us on Facebook at http://www.facebook.com/Illuminati.Scum Follow us for updates!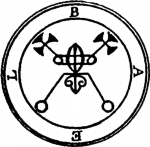 Goetia Threads
A wide selection of stylish offerings, featuring the seals of real live demons!